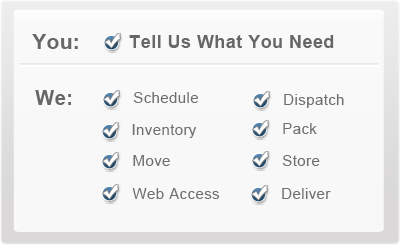 Wetzel & Sons Full Service Storage
Full Service Storage means that you pick up the phone and we pickup up the rest. Our polite and professional Move Processors determine the details and customize a crew of professional movers to inventory, pack, move, and securely store your items. In addition to this, our computerized inventory management system gives you quick and convenient access to your storage account.
1

We Estimate

Our estimators analyze important logistical aspects of your move providing you with a free quote and preparing our moving crew to get the job done right, regardless of how complex it might be.

2

We Dispatch

We customize and dispatch a clean, uniformed crew of professional movers with trucks that are fully equipped to accomplish the task in the most effective and efficient manner.

3

We Inventory

We inventory every item, carefully noting its room location and the condition in which it was picked up. We provide you with a written copy of this inventory before leaving.

4

We Pack

We carefully pack each item with careful attention to its unique packing requirements, ensuring that it will be returned to you in just the same condition it was picked up in.

5

We Pickup

Our professional movers safely transport your carefully packed items to our Storage Facility.

6

We Store

Our system, as well as our years of experience enable us to transform an otherwise cluttered mess into organized and efficient storage.

7

Online Access

Our computerized inventory management system gives you quick and easy access to your storage account.

8

We Deliver

Our warehouse staff makes your items quickly and easily accessible to you if you choose to visit us, and when it comes time for the items to be delivered we will handle that for you as well.